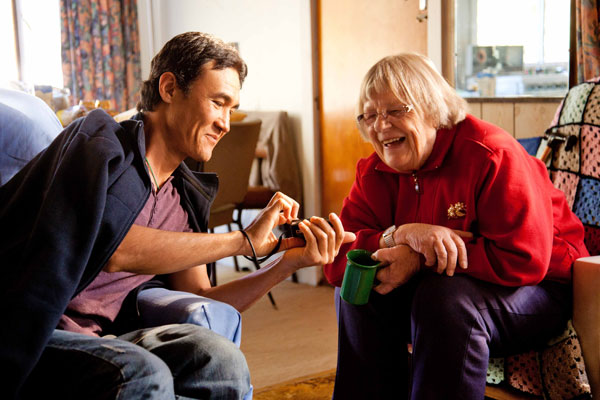 Mary Meets Mohammad – a documentary feature film
This film follows the arrival of Tasmania's first detention centre through the eyes of local Christian woman and knitting club member Mary and Muslim Afghan Hazara asylum seeker Mohammad, who is detained inside the centre, as they connect through the gift of a knitted beanie.
About the film
The film opens with the federal government's surprise announcement to build Tasmania's first detention centre for 400 male asylum seekers at Pontville, on the outskirts of Hobart.  The local community erupts with hostility as the Department of Immigration hold a public meeting two weeks later.
When a suggestion is made to knit beanies for the asylum seekers at the local knitting club – the response is a mixed one.  Knitter and elderly Christian woman Mary is strongly opposed to the Muslim asylum seekers but she is curious to see the 'luxurious life' of the detainees so visits the centre a couple of months later as the beanies are delivered.  Mary and four other knitters immediately commit to regular visits afterwards.
Their friendships deepen with the Afghan Hazara men inside, as they help knitting and craft activities flourish within the detention centre.  Mary and the women shed many prior beliefs about asylum seekers and witness the centre's first hunger strike. Asylum seeker Mohammad provides revealing insights of life inside the detention centre.
When the detention centre closes, some of the Afghan Hazara men decide to settle in Hobart.  The knitters stay in contact with the refugees and we see a close relationship develop between Mohammad and Mary.  Despite this, Mary remains uncomfortable with Mohammad's Islamic beliefs.
The close of the film sees knitter Joy invite Mohammad and Mary to her fishing shack in the Central Highlands of Tasmania. Will a connection of common humanity prevail for Mary and Mohammad, over their religious and cultural differences?